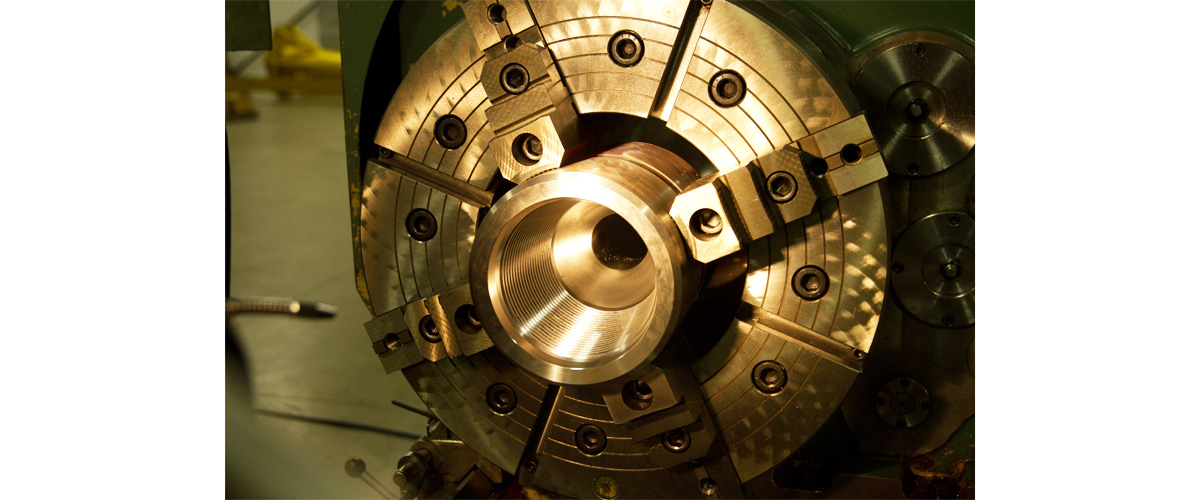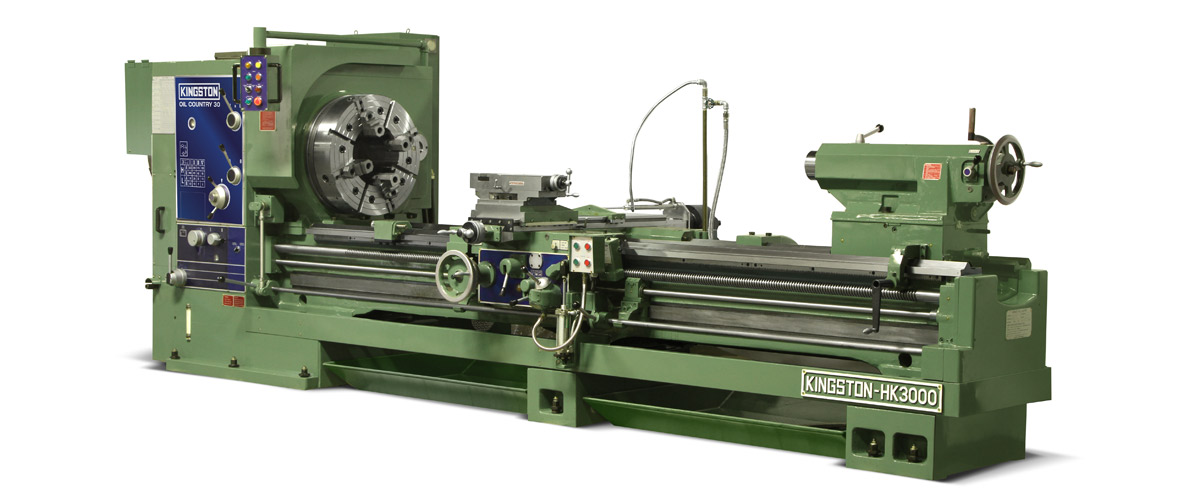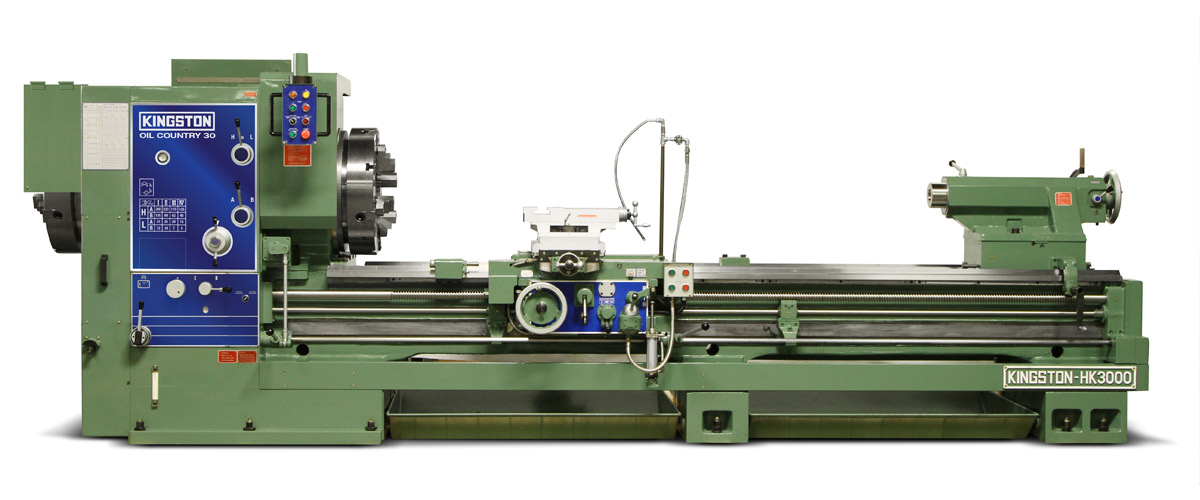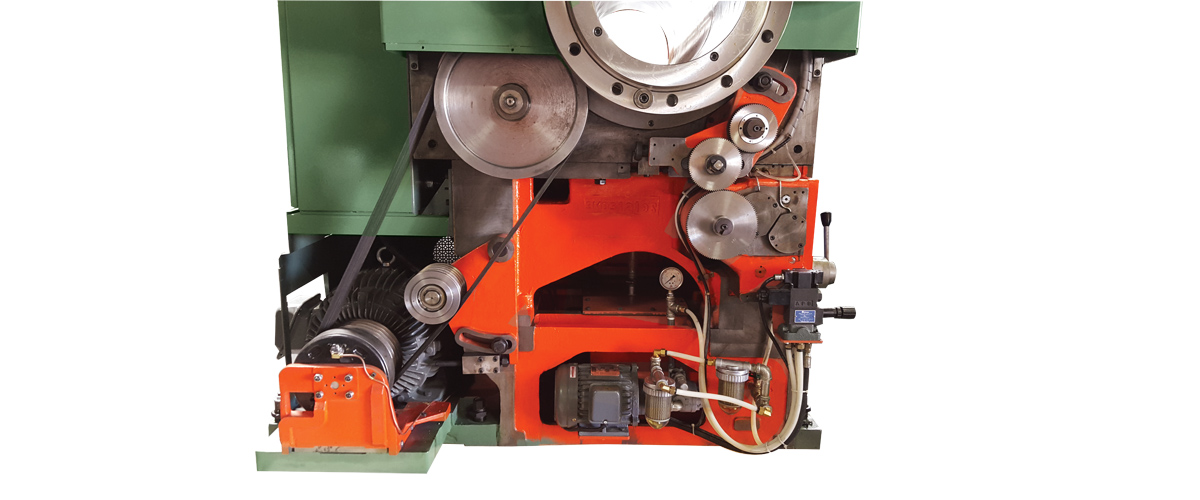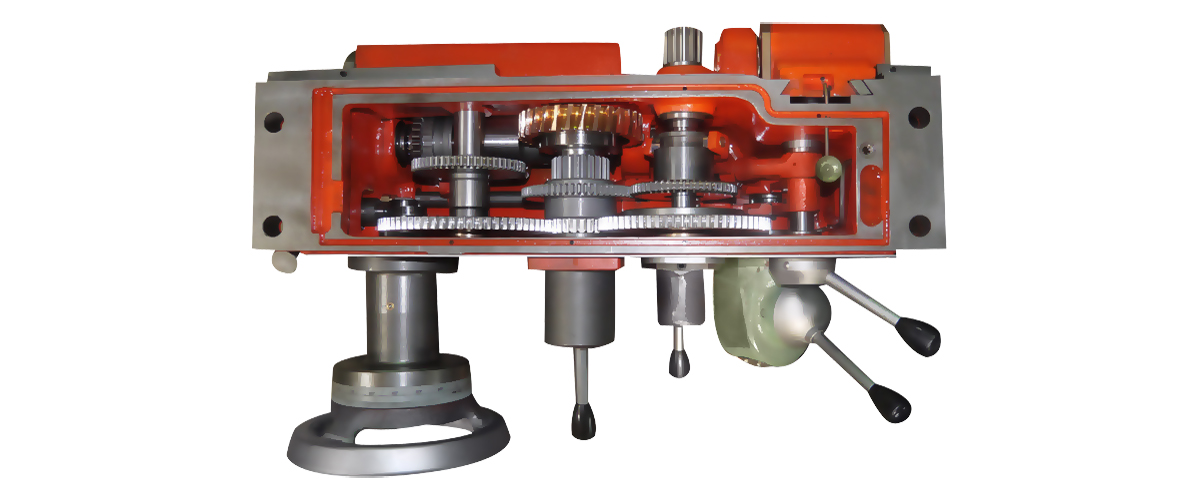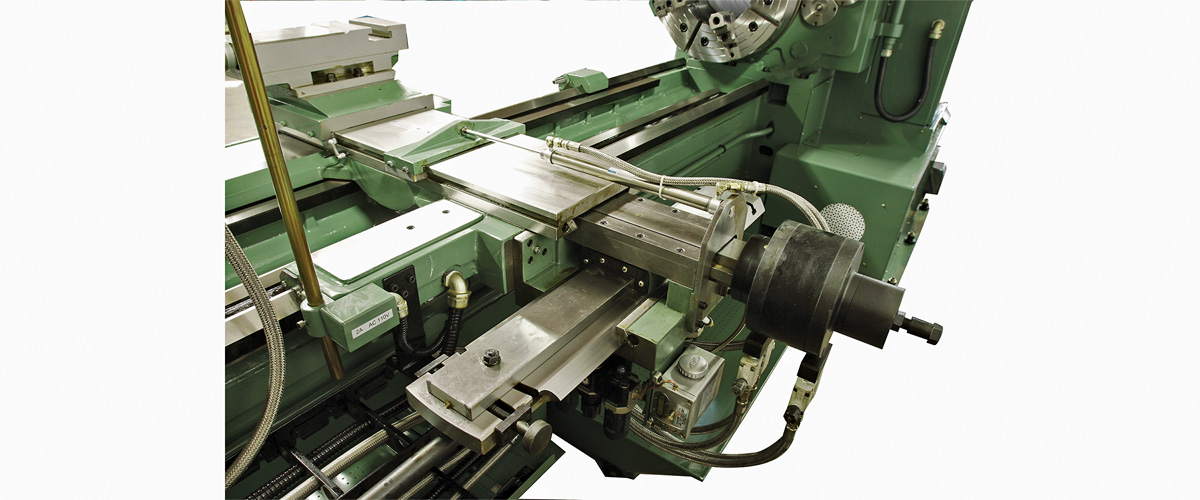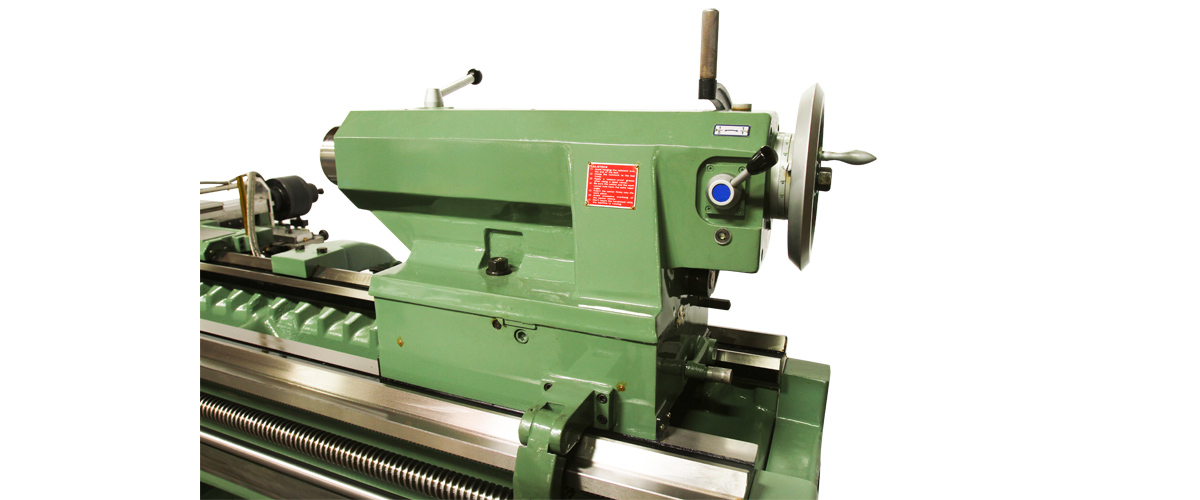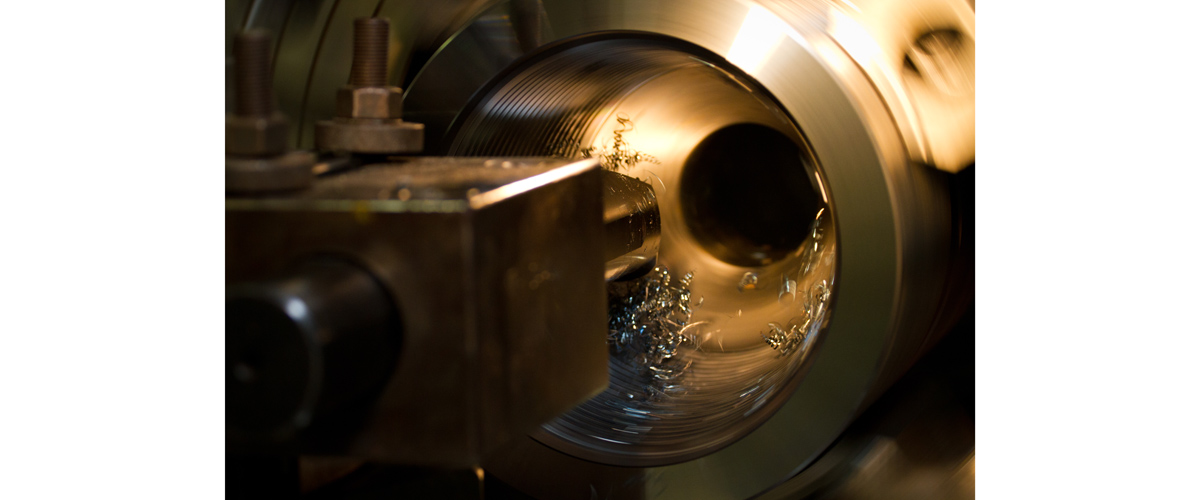 Overview
The HK and HG models are the heavyweight champs of Kingston's manual line. Available in 12.5" and 14.7" spindle bores, respectively, the HK and HG thrive under the most demanding of work conditions. The HK (available in 30" or 34" swing) consistently leads the industry in heavy-duty oil country applications—with the shorter 30" swing being the most popular for its lower center of gravity and maximum stability during heavy cutting—while the larger HG is available in swing sizes up to 40". These models are equipped with a powerful 20 HP Mitsubishi inverter-driven main motor (6P) and a hydraulic braking system, with a semi-automatic air threading attachment (complete with taper) as a popular option. Kingston's commitment to building powerful, big bore, heavy duty machines is legendary; the HK and HG are Kingston's maximal efforts – showcasing our largest spindle bore sizes, heaviest loading capacity, and massive amounts of torque. The HK and HG come front-and-rear-chuck ready (A2-20 spindle nose), with lengths from 120" to 280" between centers.
Standard Features
20 HP, 230V (only), 3 Phase, 6P Motor and Electrics Including Motor Drive Arrangement with Inverter & Hydraulic Brake
Spindle Bore: HK 12.5" / HG 14.7" (15.0" upgrade)
Spindle Nose: ASA-A2-20
16 Spindle Speeds: 5 – 300 RPM
Hydraulic Brake System
4-Way Rapid Traverse
T-Slot on Tool Slide
Hardened and Ground Bed and Cross Slide Ways
2-Speed Drive Tailstock Quill
Coolant System with Pump and Piping
Pull Drawer Chip (Coolant) Pan
Rear Chuck Adapter Installed
Front & Rear Chuck Guards
Optional Accessories
Semi-Automatic Air Threading Attachment w/ Special Taper
11.9", 19.7" Steady Rest with Roller Jaws
23.5" Steady Rest with Roller Jaws (34" & 40" Swing Only)
Roller Bracket
7.9" Follow Rest
Telescopic Taper Attachment ±8° & 3.5"/foot, 19.7" Stroke
Drilling Attachment
Carriage Stops
Splash Guard (Factory Installation Only)
Chip Conveyor (Factory Installation Only)
Digital Readout (DRO) + Installation
Live Centers
Aloris Quick Change Tool Post & Sets
3-Jaw & 4-Jaw Manual Chucks
HG Spindle Bore Enlarged to 15.0"
| | | | | |
| --- | --- | --- | --- | --- |
| Capacity | HK 30" | HK 34" | HG 34" | HG 40" |
| Swing Over Bed | 30" | 34" | 34" | 40" |
| Swing Over Cross Slide | 20.5" | 25.1" | 25.1" | 31.0" |
| Distance Between Centers | 120" / 160" / 200" / 240" / 280" | 120" / 160" / 200" / 240" / 280" | 120" / 160" / 200" / 240" / 280" | 120" / 160" / 200" / 240" / 280" |
| Width of Bed | 22" | 22" | 22" | 22" |
| Height of Center from Leg Bottom | 46.5" | 48.6" | 48.6" | 51.5" |
| | | | | |
| --- | --- | --- | --- | --- |
| Headstock | HK 30" | HK 34" | HG 34" | HG 40" |
| Spindle Bore | 12.5" | 12.5" | 14.7" | 14.7" |
| Taper of Spindle Bore & Center | 3/4" Taper per Foot | 3/4" Taper per Foot | 3/4" Taper per Foot | 3/4" Taper per Foot |
| Type of Spindle Nose | ASA A2-20 | ASA A2-20 | ASA A2-20 | ASA A2-20 |
| Number of Spindle Speed | 16 | 16 | 16 | 16 |
| Spindle Speed | 5 – 300 RPM | 5 – 300 RPM | 5 – 300 RPM | 5 – 300 RPM |
| | | | | |
| --- | --- | --- | --- | --- |
| Gear Box | HK 30" | HK 34" | HG 34" | HG 40" |
| Number of Feed Changes | 40 Kinds | 40 Kinds | 40 Kinds | 40 Kinds |
| Range of Feeds per Revolution | 0.0024" – 0.0337" | 0.0024" – 0.0337" | 0.0024" – 0.0337" | 0.0024" – 0.0337" |
| Longitudinal Cross | 1/2 of Longitudinal Feed | 1/2 of Longitudinal Feed | 1/2 of Longitudinal Feeds | 1/2 of Longitudinal Feeds |
| Leadscrew Diameter & Threads / Inch | 1.9" / 2 TPI | 1.9" / 2 TPI | 1.9" / 2 TPI | 1.9" / 2 TPI |
| Threading range - Whitworth | 1 to 28 TPI (50) | 1 to 28 TPI (50) | 1 to 28 TPI (50) | 1 to 28 TPI (50) |
| Threading range - Metric | 1 to 28mm pitch (41) | 1 to 28mm pitch (41) | 1 to 28mm pitch (41) | 1 to 28mm pitch (41) |
| Threading range - Module | 0.5 to 7 M (20) | 0.5 to 7 M (20) | 0.5 to 7 M (20) | 0.5 to 7 M (20) |
| Threading range - D.P. | 4 to 56 D.P. (40) | 4 to 56 D.P. (40) | 4 to 56 D.P. (40) | 4 to 56 D.P. (40) |
| | | | | |
| --- | --- | --- | --- | --- |
| Tool Slide | HK 30" | HK 34" | HG 34" | HG 40" |
| Maximum Travel of Compound | 9.4" | 9.4" | 9.4" | 9.4" |
| Maximum Travel of Cross Slide | 21.2" | 21.2" | 21.2" | 21.2" |
| | | | | |
| --- | --- | --- | --- | --- |
| Tailstock | HK 30" | HK 34" | HG 34" | HG 40" |
| Tailstock Quill Travel | 11.8" | 11.8" | 11.8" | 11.8" |
| Tailstock Quill Diameter | 5.1" | 5.1" | 5.1" | 5.1" |
| Tailstock Center | M.T. #6 | M.T. #6 | M.T. #6 | M.T. #6 |
| | | | | |
| --- | --- | --- | --- | --- |
| Motor | HK 30" | HK 34" | HG 34" | HG 40" |
| Main Drive Motor | 20 HP (15kw), 6P | 20 HP (15kw), 6P | 20 HP (15kw), 6P | 20 HP (15kw), 6P |
| Coolant Pump Motor | 1/4 HP | 1/4 HP | 1/4 HP | 1/4 HP |
| | | | | |
| --- | --- | --- | --- | --- |
| Dimensions | HK 30" | HK 34" | HG 34" | HG 40" |
| Floor Space (L x W) | 205" / 245" / 285" / 325" / 365" x 86" | 205" / 245" / 285" / 325" / 365" x 86" | 205" / 245" / 285" / 325" / 365" x 86" | 205" / 245" / 285" / 325" / 365" x 86" |
| | | | | |
| --- | --- | --- | --- | --- |
| Weight (lbs) | HK 30" | HK 34" | HG 34" | HG 40" |
| | 17,600 / 19,150 / 19,800 / 22,220 / 23,760 | 18,600 / 20,150 / 21,670 / 23,200 / 24,750 | 18,600 / 20,150 / 21,670 / 23,200 / 24,750 | 20,100 / 21,600 / 23,155 / 24,700 / 26,250 |